Travis Lund
Coach and Program Facilitator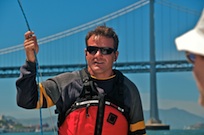 Born on the shores of Lake Huron, Travis is a lifelong sailor and sailboat racing enthusiast. Travis began sailing at age six and was riding along during races on his father's Cal 25 by eight. Developing a love for sailing early and competing in nearly every major event in the Great Lakes, it has been a logical progression from collegiate racing at Michigan State University in the early 90's to actively racing as a professional Cat-3 sailor out of San Francisco Bay.
Having refined his teaching skills with J/World for three years and with a long list of events including multiple Chicago and Port Huron to Mackinaw's, National and North American Championships, Rolex Big Boat Series, and literally hundreds of regattas, Travis uses his experience to train and coach adult sailors in racing and cruising.
Travis now owns and operates 'Solutions Sailing', a company that utilizes video and video analysis software to complement and support expert on the water coaching. You can view his site at www.solutionssailing.com.