Chicago
Get off the Loop and onto Lake Michigan, one of the United States' largest lakes. Chicago's fresh water and dramatic skyline make it an amazing place to bond with your team or clients.
Our primary partner for events in Chicago is the Chicago Match Race Center, a sailing center based out of Belmont Harbor. The CMRC hosts high-level regattas that attract hundreds of internationally ranked sailors from dozens of countries.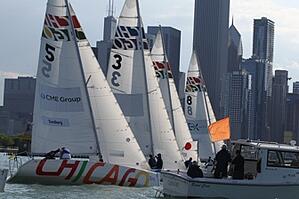 When not hosting these top-level sailing regattas, CMRC partners with GEL to create high impact BoatWorks, RaceWorks and custom executive development programs. The center can regularly support groups ranging in size from 6 to 40, and larger teams can be accomodated with advance planning.
The primary yachts used for BoatWorks and RaceWorks programs are the CMRC's Tom 28's. Each sailboat accomodates up to 5 crewmembers (normally 4 participants and a GEL coach). The boats are considered the sports car of sailboats; as they are fast and highly maneuverable.
For cruising, bonding and other custom programs, a variety of other boats are available in Chicago.