Boston
From the picturesque small boats on the Charles to the big boat racers on the Harbor, from the the visiting historic tall ships to the cutting-edge round-the-world Volvo raceboats, Boston is a sailor's city. There is simply no better way to experience its distinctive urban skyline than from the water.
Just next door to the living history of the USS Constitution in the Charlestown Navy Yard, Courageous Sailing has been teaching Bostonians to sail since 1987. Named after the famous America's Cup 12-meter yacht, Courageous was founded to make sailing on Boston Harbor accessible to all. As a US Sailing school with expert instructors and a large fleet of fun, safe, easy-to-handle keelboats, Courageous memberships and courses are some of the best, most affordable anywhere. And Courageous program revenue goes to support its youth program, which remains entirely free to kids in need.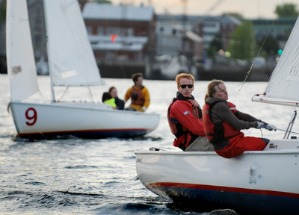 With its unparalleled views and convenient location just steps from nearby Tavern on the Water, Courageous is the perfect venue for group events, large or small. BoatWorks and RaceWorks programs out of Courageous can be booked for as few as 12 and as many as 60 people.
GEL's BoatWorks and RaceWorks experiences can be conducted on nimble Rhodes 19's or the slightly larger J22's.
Looking for lower intensity or to accommodate a group of 4-12? Ask about Charting Change programs aboard one of Courgeous Sailing's racer cruisers.