Sailing With Legends!
St. Francis Yacht Club
San Francisco, CA; April 1, 2008
What to Expect
You can expect an exhilirating afternoon racing on San Francisco Bay aboard a 35 foot, high performance racing yacht. You and your team mates will rub shoulders and work with a current or former Olympic sailor to bring your boat victory and bragging rights over cocktails and dinner at the prestigious Saint Francis Yacht Club.
Schedule:
| | |
| --- | --- |
| 9:00-12:30AM | J105 Arrival at Guest Docks |
| 12:30-1:00PM | Owners & Olympians Meeting- Starting Line Room |
| 1:00-1:30PM | Arrival - Team Photos |
| 1:30-1:50PM | Regatta Briefing - Starting Line Room |
| 1:50-2:00PM | Meet Team/Board Yachts - STFYC DOCKS |
| 2:00-5:00PM | Olympic Dream Regatta |
| 5:00-5:30PM | Freshen Up and Proceed to Cocktails |
| 5:30-6:15PM | Regatta Reception/Awards Ceremony |
| 6:15-7:00PM | Foundation Dinner Cocktail Hour |
| 7:00-10:00PM | STFYC Foundation Dinner |
POST EVENT PHOTOS AVAILABLE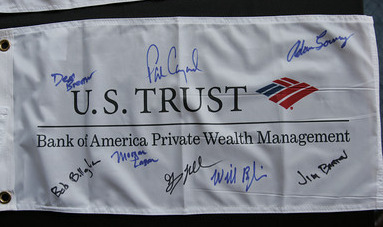 Our Olympians and America's Cup Sailors
all signed the US Trust Burgee.

Your Olympic Teammates (Updated Post Games)
Zach Railey - Zach won a silver medal in the Finn Class in the 2008 Olympic Games held in Beijing, China. The Finn is considered to be the most physically demanding boat of all the Olympic Classes. more ››


Paul Cayard– Arguably America's most accomplished yachtsman since Dennis Conner, Paul was a member of the 1984 Olympic Sailing Team in Los Angeles as well as the 2004 team in Athens. Paul is currently engaged in 6th America's Cup Campaign – skippering Desefio Espanol. Paul has won multiple world championships including the prestigious Star Boat Class. Not restricted to just one design or small boat sailing, Cayard skippered the winning entry in the 2000 Volvo-Around-the World Race and finished 2nd in the last Volvo despite almost losing his boat to a structural keel failure on the first leg. Cayard, a product of the St. Francis Yacht Club junior racing program, lives in Marin County (when he's home) with his wife Icka, son Danny (finished 5th in the 49'er class Olympic Trials last summer) and daughter, Ali. Paul is a Director of the St Francis Foundation. more ››
Russ Silvestri – Russ is also a two-time Olympian, representing the US in the 1988 Olympics in Seoul as well as the 2000 Sydney Games. Russ sails in the Finn class – generally regarded as the most physically demanding boat in the Olympic fleet where success at the top level is more about pain threshold than anything else. Russ also sailed in the America's Cup in 1987 and 2000. Russ worked for several investment banking houses before starting his own firm, SKIRITAI Capital, a San Francisco based hedge fund. Russ lives with his wife Beth and their 3 daughters a few blocks away from the St Francis Yacht Club and somehow finds time to train and compete at an international level in triathlons. Russ is a Director of the St Francis Foundation. more ››
Birgitta Bengtsson – Birgitta won a silver medal in the women's 470 Class sailing for Sweden in the 1988 Olympic Games. She was the 1988 470 world champion and cut her teeth in the 420 Class. She was selected to represent Sweden at the ISAF Youth Worlds twice. Birgitta has coached extensively in Olympic classes and has been a match racing umpire for many years. Off the water, Birgitta is a Law Graduate from the London School of Economics and is in-house counsel for a Bay Area software company.
Morgan Larson – Raised riding the waves of Santa Cruz, CA, Morgan grew up racing sailboats. Morgan has been a stalwart Olympic and grand-prix sailor for many years. Twice finishing runner-up in the Olympic Trials, Larson has been selected to coach 49'er and 470 class Olympic crews preparing for the Games. Morgan has sailed in the afterguard for three different syndicates in the last three America's Cups. Larson currently skippers the 86 ft grand prix racer "Morning Glory". Morgan is also an accomplished wind-surfer and kite-boarder. Morgan recently married and the couple is travelling to regattas and trying to decide where to settle down
Jim Barton – "Jim-Bob" represented the United States in the 2000 Sydney Games and earned a Bronze medal sailing as the bowman and headsail trimmer in the Soling Class. A lifelong sailor from Marin County, Jim has had many other successes in sailing, including winning a J-24 World Championship. Jim is custom home builder in Marin County where he lives with his wife and son. Jim's son is a rising star on the junior sailing program consistently placing in the top 10 in national and international competition.
Will Baylis – "Wilbur" crewed with Bob Billingham in the 1988 Games in Seoul winning a silver medal in the Soling Class. Will also won two Soling World championships and one J-24 World Champs. Will is one of three siblings raised by San Francisco sailing legend Derek Baylis, a transplanted Aussie who spent more time in the boatyard or on the water than he did at home. Sailing before they could walk, the Baylis kids grew up racing and building the family sailboats. Will had raced to Hawaii and was seasoned pro on San Francisco Bay before he graduated from high school. Will is an avid wind-surfer and mountain biker. He lives in Marin County with his wife Eileen and their three children.
Bob Billingham - "Buddha" won a silver medal crewing with Will Baylis in the 1988 Games in Korea. Bob has won five world championships and has had a series of podium finishes in a dozen more. Bob was a member of the crew which won the 1992 America's Cup in San Diego. Teaming up with Paul Cayard as skipper, Billingham managed the 2000 America's Cup Challenge from the St Francis Yacht Club in New Zealand. Billingham has served on five US Olympic Sailing Committees and also served as Director of US Sailing. Bob now runs his own real-estate development consulting business managing projects throughout California and Nevada. He lives with his wife and daughter in Grass Valley, CA. Bob is Vice-Chair and a Director of the St Francis Foundation. more ››.
Genny Tulloch grew up sailing all kinds of dinghies, from optis and lasers to 420s, 470s, and 29er skiffs, representing the US at a variety of international events, then continuing to Harvard where she graduated in 3 years and was named a 3-time All-American and Women's College Sailor of the Year. She's since become involved in more big-boat sailing, racing Melges 24s, 32s, Mumm 30s, Farr 40s, and a Transpac 52, qualifying for the Morning Light Team where she was the only female on board for the Transpac Race from Long Beach to Hawaii last summer. Genny is now focused on match racing for the 2012 Games.
Adam Lowry finished 3rd in the Olympic Trials in 2000 & 2004, and was selected as the training partner and assistant coach to the bronze-medal winning Olympic Team in Sydney." I would describe the 49er as one of the most high-performance and physically demanding classes.
Frequently Asked Questions
Can I Really Do This Without Experience?
Olympic sailing is highly physical and mentally challenging, but our regatta will have all of the excitement without any need for sailing experience or fitness training. .
You can expect to be challenged at times, but never overwhelmed. Our Olympians and the STFYC members who've generously donated their boats and time will make sure you have fun and sail in a safe fashion.
What Kind of Yachts are we Racing?
We will be racing J-105's donated by members of the yacht club and the local fleet. These versatile one-design sailboats are very seaworthy, impossible to capsize, and quite fast. See above for photo of a J105 crew in action.
What's the St. Francis Yacht Club's Connection?
The St. Francis Yacht Club has a long and proud history of developing sailors to compete successfully in the US Olympic Trials and represent the US in the Olympic Games.
Many Olympic medals hang on the walls of the StFYC dating back to 1932. In 1984, 1988 and 1992, the St Francis Yacht Club had members competing in each Olympic Class Trials – an accomplishment no other Yacht Club in the United States has come close to achieving.
Sailors campaigning for a berth on the US Olympic Team face an incredible array of challenges. Not only do they have to train to develop their sailing skills to world-class levels, but they have to travel extensively to national and international competitions.
As the bar rises in the quality of Olympic Sailing, so does the need for funds to support these campaigns as sailors are required to train almost full-time to be successful. Sailors who meet the criteria of the Foundation's board are able to raise funds from their communities and apply to the Foundation for grants to support their travel, training and other expenses of competition.
What is the St. Francis Yacht Club Foundation?
The St. Francis Yacht Club Foundation ("StFYCF") is a non-profit, 501(c)(3) charitable organization with a 20 year history of support of the sport of sailing. While founded by members of the St. Francis Yacht Club, the foundation is an independent entity which primarily supports competitive racing, sail training and education initiatives throughout the San Francisco Bay region and beyond.
In 2007, the Foundation supported a broad array of sailing activities with grants totaling $230,000. Beneficiaries included Olympic competitors and hopefuls, junior sailors, under-privileged children, disabled sailors and sea-oriented education scholarships.
Organizations such as the Treasure Island Sailing Center, and Bay Area Association of Disabled Sailors receive grants to support their facility development and program activities to help increase their ability to serve more sailors with special needs or to introduce more young kids to the sport of sailing.
Gifts to the Foundation are fully tax-deductible to the extent provided by law. We can assure you, they are put to good use in the development of the sport we so love.