Butamax BoatWorks
Experiential Team Building Program - October 13th, 2010
What to Expect
BoatWorks is an experiential leadership development program which is offered by in Annapolis and in port cities throughout the US and in select international locations.
So get ready for an exhilarating day at sea, but don't stress...absolutely NO SAILING EXPERIENCE is required. And, you don't need to be an athlete. Sailing is known as a "lazy-person's sport." Parapelegics, amputees, deaf and even blind people sail with abandon and joy.
The program leverages a non-racing, multi-sailboat format to get teams gelling as they battle the wind, the currents, their collective anxieties and a special group challenge, all under the watchful eyes of a professional coaching staff. The BoatWorks challenge is similar to an obstacle course, but individual boats can't go it alone. Success requires extensive collaboration between sub-teams via hand-held radios.
The BoatWorks Challenge shines a spotlight on our strengths and weaknesses in areas of group decision making, leadership styles and collaboration. Be prepared to be surprised by what we learn.
Boats and Facilities
You'll sail a J-80 racing yacht. This one-design sailboat is versatile and highly maneuverable, but like any sailboat, requires teamwork to make it go.
Schedule
| | |
| --- | --- |
| 9:00-9:30AM | Kick-off |
| 9:30-10:00AM | Sailing & Safety Orientation |
| 10:00-12:00PM | Sailing Practice |
| 12:00-1:00PM | Lunch & Challenge Briefing (ashore) |
| 1:00-4:00PM | BoatWorks Group Challenge |
| 4:00-5:00PM | De-brief and Refreshments |
| 5:00 | Departure |
PHOTOS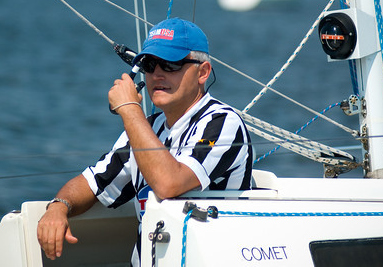 BoatWorks Strategist hard at work.
Want to see photos from other similar programs?
Visit the galleries at gelcorp.smugmug.com
FEEDBACK
Please tell us how we did! Our entire team reviews our feedback forms, and we'd love your candid comments. Come back after your program and tell us how we did!