Learn to Sail with US Sailing
Special Guest: Olympian - Graham Biehl
What to Expect
You can expect an exhilirating afternoon competing against three other AlphaGraphics teams aboard a high performance yacht under the watchful eyes of a professional racing coach. The regatta is scheduled to allow time for four short course races and during one you'll be crewing alongside 2008 Olympic sailor, Graham Biehl.
The event is organized by Group Experiential Learning and J World Annapolis, the Performance Sailing School. GEL organizes leadership development and team building programs across the country, and like AlphaGraphics, is a sponsor of US Sailing Team AlphaGraphics.
Schedule
| | |
| --- | --- |
| 11:00 AM | Regatta & Safety Briefing |
| 11:45 AM | Meet Your Coach & Board The Boats |
| 12:00 PM | Sailing Instruction & Practice |
| 1:00 PM | First Gun - Race 1 Begins |
| 2:45 PM | Return to Shore |
| 3:00 PM | Awards |
| 5:00 | Departure |
| 4:00 PM | Depart for Hotel |
---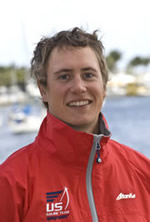 USSTAG Representative
Graham Biehl has twice competed in the U.S. Olympic trials for the 470 Mens event, and was selected along with skipper Stu McNay to represent the U.S. at the 2008 Olympics. They were 13th last summer at the Games, and are determined to win a medal at the 2012 Olympics in Weymouth, England. Read more about Graham on the USSTAG website››
---
Frequently Asked Questions
Can I really do this without any sailing experience?
Olympic sailing is highly physical and mentally challenging, but our regatta will have all of the excitement without any need for sailing experience or fitness training.
You can expect to be challenged at times, but never overwhelmed. Our J World Coaching Team will make sure you have fun and sail safely.
What kind of yachts are we racing?
We will be racing J-80's trucked down to Florida by J World Annapolis.These versatile one-design sailboats are very seaworthy, impossible to capsize, and quite fast. The header photo above shows a fleet of J80's in tight racing action.