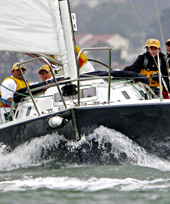 "These guys are gonna face some real challenging moments out there. They're gonna be under a lot of pressure, but the number one rule is to stick together as a team. You do well as a team, you're having a bad moment, you go through that together, and you move on. The team that comes out of this will be a team we'll see in the future."

That's the takeaway from Oracle Team USA Skipper, James "Jimmy" Spithill after visiting the Red Bull Youth America's Cup teams last week. Amid the cloud of allegations about cheating and other scandalous claims that have plagued The Cup in recent weeks, Spithill's prophetic words ring true -- teamwork will ultimately prevail for the young guns who, for the first time in the venerable sailing event's 161 years, are being given a shot at a spot in the title competition over four consecutive days of sailing starting on Sunday.

The physicality of the sport is daunting and demands that reaction times be precise, but at the end of the day it will all come down to how six young athletes channel their individual talent and determination into a collective win. That kind of effort doesn't just happen and is nothing shy of how elite military forces train for combat.
Read More