Last week when GEL was in Chicago conducting BoatWorks programs with our new partner, the Chicago Match Race Center, our stretch goal was flawless execution, and our intermediate goals were training the CMRC staff in the intricacies of a non-racing, iterative experiential training program and delivering against our clients' objectives. One of the leaders responsible for these short and long term objectives is Stephanie Roble, the center's Event Coordinator.
There are many things impressive about Stephanie, and the ones that stand foremost in my mind from last week's four days of team building are her ability to assimilate rapid fire information, get it out to her team, and stay calm under pressure.
It's no surprise that she's also a fantastic match racer, as evidenced by her performance to date in the Women's Match Racing Championship. Read on for details in the CMRC press release.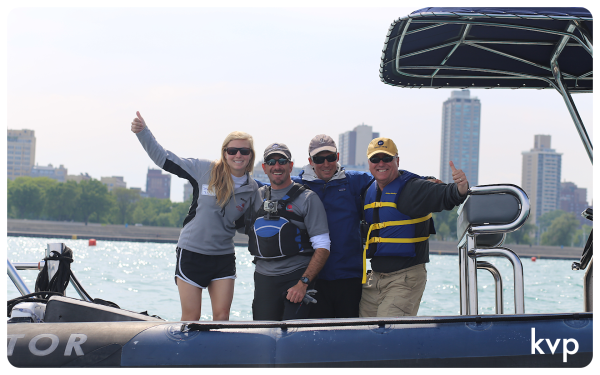 Stephanie Roble, Jay Palace, John Ponsetto (CMRC) and Tim Perlick (CME) in the BoatWorks EC Protector
CHICAGO, Ill. (June 14, 2013) - With an undefeated scorecard earned after six completed flights, Stephanie Roble (East Troy, Wis.) and her team have taken the early lead in the 2013 U.S. Women's Match Racing Championship, held at the Chicago Match Race Center. One flight remains to complete the first Round Robin, with a second also planned for tomorrow to complete the first stage of the competition for the prestigious Allegra Knapp Mertz Trophy.

Besides having spent the last three seasons at CMRC, Roble was also on the winning team as crew in both the USWMRC and the Open US Match Racing Championship, and is thus considered one of the favorites among the field of eight competing today through Sunday.
Race conditions today were nearly ideal, with the 10-14 knot northeast to east breeze building up 2-3 foot swells, giving all the teams excellent opportunities to display both their tactical as well as boathandling prowess in the Tom 28's. These skills been sharpened with help from a clinic held yesterday and this morning by CMRC Director and Alpari World Match Racing Tour card holder Taylor Canfield. Both on the water coaching and off the water in debrief sessions, Canfield has been engaging teams with personalized advice on moves and maneuvers to help improve their game.
These tips helped many, including Clerc Cooper (New Orleans, La.) who had a weak start to the event and looked to finish the day without a win until the last match when she defeated Madeline Gill (Norwalk, Conn.) in a close match.
This was just one among many hard-fought matches today that featured close starts, multiple lead changes, and for those being too aggressive, penalties assessed by the umpire team led by Kathy Lindgren.
Sitting in third place with four points is match racing veteran Sandy Hayes (Scituate, Mass.) whose team looked solid throughout the racing today but a few mistakes put them behind leaders Roble and Wilson. Look for them to be a Finals contender as we head into the weekend and they gain more experience in the boats. Hayes and crew went 4-2 today.
Perhaps the most hotly contested battle of the event is the one for the fourth and final spot in the semifinals. Intercollegiate sailor turned match racer Rachel Austin and crew led by veteran match racer Suzy Leech are tied with umpire-turned-skipper Katie Maxim and her San Francisco based team. After losing her first two races of the day, Maxim went on a winning streak and currently has the upper hand having won her match against Austin.
With just one defeat suffered to the Roble and her team, another CMRC regular has done well in the first day to sit in second on the leader board. Jennifer Wilson (Chicago, Ill.) and her team have amassed a 5-1 record, and if the favorable wind conditions hold through tomorrow, they will have another shot at Roble to avenge this loss in the second Round Robin of this first stage of the competition.
The winning skipper will earn the right to race in key match racing events in 2013, including the U.S. Match Racing Championship this September in Sheboygan, Wis. and the Women's International Match Race Series event this July in Oyster Bay, N.Y.
The intended racing format includes four stages, beginning with double round robins followed by a round robin to determine places 5-8, a semi-final knockout series for places 1-4, a petit final for places 3 and 4, and a final knockout series for places 1 and 2. Races are being conducted by PRO Darcy Cook and her race committee team, while the umpire team will be led by Umpire Kathy Lindgren.
Racing occurs outside Belmont Harbor in front of the break wall, an ideal viewing location for spectators with bleacher-style seating. The course is Windward/Leeward twice around with a downwind finish and possible leeward gates. Racing is scheduled to begin at 9 am CT on Saturday with the intention of completing the double round robin (start times subject to change).
The Mrs. Charles Francis Adams Memorial will be awarded to the Runner-up position. US Sailing gold, silver and bronze medals will be awarded to the skippers and crews placing first through third, respectively. Only a U.S. citizen may be declared U.S. National champion.
The CMRC is one of the first match racing centers of its type in the United States and brings top level racing to the Great Lakes region. In addition to hosting world class regattas, the CMRC also provides weekly training programs to experienced sailors interested in learning more about the growing discipline of match racing.
For results, standings, photos and more information on the 2012 U.S. Women's Match Racing Championship, please visit the event website at championships.ussailing.org/Adult/USWMRC.
For breaking news and race results from Chicago follow us on Twitter @USSailing or @MatchRaceCenter. Use Twitter hashtag #WMRC13 to participate in the conversation throughout the championship.