Recently I have been working on a series of sailing team building events in partnership with LivingSocial Adventures. These events utilize GEL's BoatWorks format which has been customized into a half-day experience for members of the Living Social community, people with a passion for doing fun things with fun people.
On September 17th and 18th, 80 LivingSocial Adventurers joined GEL at J World Annapolis in the first of these exciting programs.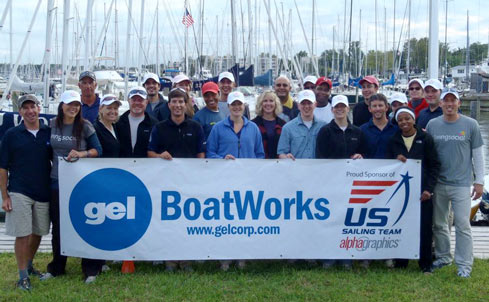 Primarily first-time sailors, the four person teams had a fantastic time both on land and out on the water where they were introduced to sailing. With their coaches providing guidance and advice, our rookie sailors quickly learned the ropes and then attached the BoatWorks Group Challenge as a fleet. The challenge requires each team of four to communicate and collaborate with the other boat-teams as they race the clock through a nautical obstacle course. The gang was a competitive lot, and they knocked it out of the park, putting together, after some fits and starts, some of the top runs we've seen this season.
While we didn't debrief as we would for an intact or newly formed corporate team, lots of folks commented on how much they learned about team work and communication.
You can check out photos from all four sessions on the GEL Facebook Page. In addition a slideshow featuring some of the best photos from the Sunday event has been put together by LivingSocial's professional photographer Michael Procknal.
Another weekend of LivingSocial BoatWorks Adventures will be coming up on October 22 and 23 and there are a few spots reserved for "friends of GEL" who've been wanting to check out the program. Visit the event page, and do give me a shout via phone or email if you'd like to join in the fun.