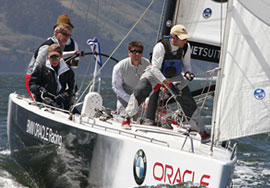 And because blog postings are so boring without images, here's one of GEL's founder, Jay Palace, taken a few years ago when he had an opportunity to race with John Kostecki and a few other members of Oracle Racing. In the shot below, the team is match racing against another Oracle British contender, Andy Sinclair, whose GBR Youth Challenge team didn't make the final cut during the February qualifiers had this to say about it, "They go so fast. That's every team's problem -- we're not doing stuff early enough. We'll get to a mark and we haven't done half the jobs we need, and it'll just be absolute chaos and bedlam."
Welcome to the world of elite team building, a discipline that requires each member to be at their personal and collective best. As the official supplier of leadership development and team building services to the U.S. Sailing Team AlphaGraphics (USSTAG) from 2009-2012, we know a thing or two at Group Experiential Learning (GEL) about what it takes to develop that kind of world-class collaboration. We've been developing high-impact teams for the private sector for over a decade. Sailing is just one of the many immersive experiences in which we take groups of 4 to 60 out of their comfort zones and into the outdoors to become high-functioning teams in the workplace. We also create mountain-based experiences involving hiking, skiing, snowboarding and specialize in experiential workshops that have both a classroom and outdoor component.
"The coordination and communication required to get the teams to sail quickly, close together and in the right order was true teamwork in action," observed a recent Rite Aid participant whose group coalesced through the honest exchange provided by our BoatWorks experience.
An Ernst & Young executive had this take-away, "The parallels between what goes on on land – i.e., our working environment—and what went on on the water were uncanny. The day on the water has...opened the course for some honest exchanges on how we can do things differently."
We've also done the same with other Fortune 500 companies and groups from Genentech, Northrop Grumman, Booz Allen Hamilton, the Boston Consulting Group, The VF Corporation, Microsoft, and CVS/Caremark.
Want to see how we can help put your team to the test? Contact us via the form or phone, and we'll schedule some time to give you a quick overview of our proven approach.